FractalMorph 2.0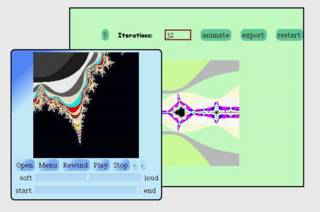 FractalMorph on right with animation at left

FractalMorph site

I wrote a long rant about the time I first made this project, epistemology, and computer literacy. To my dismay the computer had some kind of hardware failure right as I was going to publish the article. It could come again at any time I guess…

"Alert! regulator failed".


Squeak's Download Site

You have several options for running this. If you dig through that first page you'll find the package to download and that can be installed manually in squeak through the File Browser. Or you can go in squeak and look for this thing called the Package Loader, and install FractalMorph package over the web all at once.

Here are more instructions. If you find yourself running Squeak, to get to this Package Loader do the following. Click somewhere in the "World" on the desktop area so that a menu pops up, which is called the World Menu. From this goto "open" and then you will have "Package Loader as a choice, (WorldMenu -> open -> PackageLoader).

Once the PackageLoader loads itself, you should have an alphabetic listing of packages. If you dont see FractalMorph in the listing then you can right-click and you should see some filters, probably one of these filters is on which is preventing the FractalMorph package from being shown. When you see FractalMorph package in the list you can right-click on it and get a menu that has download and install. There's no reason to download, so just install it, and you will have a FractalMorph open automatically when it completes.