Weekly Murmurs Promulgated Disinterest
Here is a blast of unrelated subjects that I want to share today.
Feds pounce on UGA sophomore dressed as ninja
ATHENS, Ga. (AP) — Running through the University of Georgia campus as a ninja can elicit a prompt response from authorities, a UGA sophomore learned.

Federal Alcohol, Tobacco and Firearm agents, on campus for a community training project, detained Jeremiah Ransom of Macon Tuesday as a ''suspicious individual'' when they spotted a masked figure darting near the Georgia Center.

Ransom told The Red & Black student newspaper that he had left a Wesley Foundation pirate vs. ninja event when he was snared by agents with guns drawn.

''It was surreal,'' Ransom said. ''I was jogging from Wesley to Snelling (cafeteria) when I heard someone yell 'freeze.''' At first, he thought a friend was playing a joke.



University Police Chief Jimmy Williamson said Ransom was released as soon as he was found to have violated no laws.

Vanessa McLemore, the ATF special agent in charge, said agents thought something was amiss when they ''noticed someone wearing a bandanna across the face and acting in a somewhat suspicious manner, peeping around the corner'' then breaking into a run.

Williamson said Ransom was wearing black sweat pants and an athletic T-shirt with one red bandanna covering the bottom half of his face and another covering the top of his head.
Call it ninja penis envy on the part of the ATF police officers.

---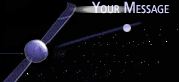 KEO The satellite will allegedly orbit the earth for the next couple millenia, then crash back into earth with all our goobly goobly trinckets and knowledge of the world. I won't even tell you what kind of insanity I wrote for my message. They'll know! They will know!!!

---
I am Terrastock 6. I have gathered over 30 psychedelic bansd from across four continents to play a 3 day festival this April 21-23 in Providence, RI.
Yes – cannot waited.


Spiritual (or transpersonal) experience is less likely to lead to a spiritual emergency when: